WELCOME TO EARTH-740.
X-Men Revolution is an Earth-616 inspired advanced RPG. We are loosely inspired by canon comic and movies, but have our own history, original characters and plots.
Join us as an original character, or pick one from marvel canon!
Continued from:
http://s4.zetaboards.com/Xrevolution/topic/30168168/1/#new
JP Jet and Scott
Scott slipped off his uniform coat and slipped it around Jet's head, lightly rubbing her arms as she shivered.
"G-gotta… s-s-stop mee-eting… like t-this."
she stammered and Scott nodded.
"We certainly do," he said, "Keep the jacket over your head. I heard somewhere that you lose heat through your head and feet. I don't know if it's true but I don't imagine it can hurt."
Gunfire alerted them both, and Jet asked about Logan.
"The Wolverine's on the case, yes," Scott said, "Let's get you out of here, to where you can warm up. If he gets himself all shot up and I let you succumb to hypothermia, I'll go home missing a limb or two…. And mine don't grow back."
She could feel the warmth from the jacket and did as he had mentioned, keeping it over her head. He told Jet that Logan was on the case, but when he said he'd go home with missing limbs if she got hypothermia she gave out a short shivered laugh. "W-wouldn't… dare… I w-won't allow it." It was taking a while but she was slowly getting warmer.
With help the blonde managed to stand up as they walked out she couldn't help but comment, "All t-t-things cons- considered… I t-think I came out of this one on… t-t-op." Jet let out a shivered chuckle, maybe slightly hoping cracking the joke would warm her up. No matter how scared she got at the end of it, she was extremely thankful to be alive.
They made their way back upstairs and walked back towards where the carnage left behind by both ferals. The destruction, the debris, the splatters of blood that caked… everything. While Jet wasn't cold enough to stutter the words she would speak, there was still a shiver to her voice as she spoke, "Holy shit…" Looking back at Scott she asked, "They're really going to kill each other this time aren't they?" The concern in her voice couldn't be masked.
Scott made no comment about the state of the room. He expected nothing less. Jet expressed her concern and Scott said, "Well, this isn't a particularly promising sight, Miss Black, but I will tell you this. Logan is not my biggest fan, but even he doesn't think so little of me that he would bring me along to do something anyone could have done. No offense, but it was not particularly hard to open a freezer door and save you. He didn't bring me here to do that, and it wasn't for the pleasure of my company."
Jet always respected Scott, so when he spoke she listened. She took no offense to his words about easily busting the freezer door open.
The noise of the two in the middle of their rampage was not hard to miss, particularly the hole in the middle of the floor, and Scott, motioning for Jet to stand off to the side, he said, quietly, "It's to make sure they don't kill each other, whether or not he'll ever admit it."
The blonde moved to the side as he motioned for her to do so. Looking downward towards the hole and heard a mechanical voice.
"Termination protocols initiated,"
"Of course, they have," Scott muttered to himself. "Just not the ones you think, pal…"
Moving far more quietly than a man not known to care much about stealth, Cyclops moved to where he could see exactly what was happening down below. A robot, something that looked like a cheese grater mated with a weed wacker and the infant took a mostly humanoid form, loomed over the two ferals, in a room that was definitely not part of this house's original decorating scheme. It would have been easy if Scott had a clear shot, but then, life was never easy for Scott Summers…
… Luckily, he thrived on difficulty.
"Wolverine, Sabretooth, freeze!" he ordered, hoping that they were not beyond complying, and he slammed his fist up to his visor, the calculations made in his mind in a split second. The beam that shot from perfectly aligned lens array seemingly missed its target, creasing the air in a scarlet scream, but then, as it struck the ground at Logan's feet, it ricocheted, and careened into the far wall, before striking some debris and bouncing, never losing momentum, never losing strength, creating an intricate maze of force and skill, to slam into the robot's chest, propelling it backwards.
Jet was careful to be out of the way but get in a slight view of what was happening, she didn't see as much as Scott could but she could see a little bit. A small section of Logan's foot and leg, that is until it was blinded by a ray of scarlet destruction and hearing the sounds of the beam connecting several different times before it connected with it's final target. In a lowered tone she looked up at Scott and spoke, her voice sounding even less chilled than before, "Ya know, in case anyone ever questioned you being the X-Men leader, just show them something like that and it'll remind them."
Cyclops
Logan
@Sabertooth
--------------------
**********
**********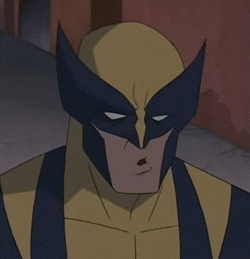 healing, drinking, killing
"Stopped questioning that fact when you cleared the front lawn and couldn't stand up One eye. You know you and the lady are loud as fuck right? Or maybe that's my ears regrowing after that last grenade."
Logan gave Jet a fierce smile, from a face covered in blood and gore with some metal shining through. He'd told her before that he wasn't what she thought, that he was a living weapon with just enough control to pick his own target, usually. Today she got to see it for real, he was made to kill, made to never stop killing, made to not care about it afterward. Creed was just like him, only difference was that Creed didn't try to be better.
Speaking of Victor, Logan used Scott's opening to slam both sets of claws towards Sabretooth's guts. If they were going to fight a killer robot, well he'd make sure he could run faster then the other guy. If there was something down her that could actually kill Creed, well he was all too happy to let it.
"Hey Jetters, the frozen look ain't you, how 'bout we get you some soup, eh babe?"
Meanwhile the robot, actually the first shell of a series of constructions was hit by pure unstoppable concussive force that plowed right into the machine's chassis, lifting it off the ground and dropping it into the light where all the players in the drama could see it. Just over 8 feet tall and gleaming in the scant light the metal monster stood back up, it's blue eyes staring unblinkingly at the two animalistic men in front of it.
"SHIVA program active. Subjects Project L and S scanned, liquidation protocols loaded."
The oversized blender moved it's head, now looking at Cyclops and Jet and seeming to read them to the bone at a glance.
"Warning! Extra beings in target area. Please leave or you shall be met with deadly force. Unit #43 is programmed to retire Project X survivors. Forget what you have seen here and leave. There will be no other warnings given."
The SHIVA unit, now fully prepared to ignore them if they left or kill them if they stayed turned its attention back to Wolverine and Sabretooth as it raised massive blade covered arms and opened palms which glowed green with unknown energies.
"Weapon X survivors, I am SHIVA, I am your death. Project X wishes you the best for whatever lies beyond this life and apologies that you were not able to fulfill the project's purpose. Be of good cheer, all data on anything you may have done to help the next project is stored and will be used to make improvements on the next subjects. Have a great day."
The energy flashed but it was not lazer beams, missiles, or death rays. No SHIVA was the guarddog of Project X, their failsafe to put down the living weapons they had made. Memories, activated by unremovable implants in each feral's brain, were unleashed in a flood. Every moment of pain, confusion, death, and betrayal was amped up to 11 and roamed freely, agonizingly through their mind.
As the robot drew down on the two men, it was all Logan could do to scream.
--------------------
Trey is hero.
There were many things Victor Creed was not terribly fond of. Far too many to list conveniently. But what this robot represented, what it was in this moment - his mind knew exactly what that was, and that was one of the rare things that could override his hatred for the ugly little freak he'd been engaged in a mutual murder-attempt for longer than either truly remembered. And it set his blood boiling.

"You're playin' me? Me?!" he snarled at the machine. Weapon X hardware he'd never raided, never stolen from an abandoned facility - none of that. This was here, waiting for him. Waiting for them. Weapon X had used his own tendency towards baited traps to bait a trap for him alongside the Wolverine. If he wasn't so over the edge pissed off, he might have been impressed.

"Nobody plays me fer a fool an' gets away with it! I know you little weasels are watching, so I'm a' make you a promise. I'm gonna find you, I'm gonna find you an' give you a guided tour through yer own intestines and then- agh!"

His threatening rant was interrupted by claws in his guts, and then a bright beam of scarlet crashing into the Shiva robot that stood ready to kill them all.

"You... Little..." Creed grunted, before the robot unleashed all hell into their brains. Every horrific moment during the process, lighting their minds on fire. The pain was as intense as any either had ever felt.

Through it, Creed took a staggering step forward, one arm held to his abdomen to cover the stab wounds that were mending, another one reaching out. The blast from Cyclops barely put a dent in it, so Creed was unsure if even his or even Logan's claws could actually cut it. But he was far too pissed off to not try.

As he got close enough, he reached out to the robot's right arm and yanked, hoping that at the very least, joints were an issue with this machine. Or failing that, that someone else could take advantage and capitalize on whatever his distraction could cause.
She heard Logan before she saw him, hearing him reply to her comment about not questioning why Scott was leading the X-Men. Jet smiled and let her eyes search for him, just in time to see his smile with metal shining through parts of his face. Muttering to herself, "Jesus…" she'd never seen Logan with his skin blown off of his face before.
The blonde was indeed looking at a weapon. But it wasn't anything she'd ever doubted, you don't have metal claws without being made into some sort of tool for some nefarious reason. It was just that Jet saw the man behind the weapon, she was far too optimistic for her own good sometimes. Maybe he was everything everyone was saying and warning her about, it wouldn't stop her from trying to see more than that.
Creed started his rant, how he was going to find them but before he could finish his threat Logan moved and jammed his metal claws into Creed. He commented about the chilled out look not suiting her, she was still cold but the adrenaline coursing through her was warming her up quickly. Still, Jet couldn't respond, as the blue lights caught her own eyes. The robot, apparently called SHIVA which seemed all too fitting of a name and which was probably done on purpose, spoke to Silverlight and Cyclops.
Telling them to leave and forget or be met with deadly force, she lowered her eyebrows at the machine for a moment then looked at Scott, "Well fuck that." She was not going to be kidnapped by Creed and dragged all that way to his death mansion with Scott and Logan there to help her only to leave. Cyclops would most likely feel the same without the colorful vocabulary. SHIVA spoke to Logan and Creed it then did something to both of them, causing Logan to scream. Jet was getting warmed up very quickly now. Not knowing what it was doing to him her eyes widened as she took in a sharp inhale.
Creed seemed to be in pain as well, but she didn't care so much about his safety as she did Scott and Logan's. Still after he moved forward and pulled at the robot's arm Silverlight would take full advantage to the opening. When she moved the jacket Scott gave her that she kept on her head fell behind her as the brilliant silver shine of her powers sparked to life. Quickly she reared her hand back and thrusted it forward to send a stream of her energy directing into SHIVA's head.
She'd had enough training with her powers to be able to do that at least. In a side by side contest of their powers, Scott had the upper hand. He had proven not two minutes ago that he had to oomph when it came to power, but Jet was no pushover either. With SHIVA pushing them, she was going to help fight back. Silverlight continued to press her power on the Terminator wannabe.
Cyclops
Logan
Sabretooth
--------------------
**********
**********